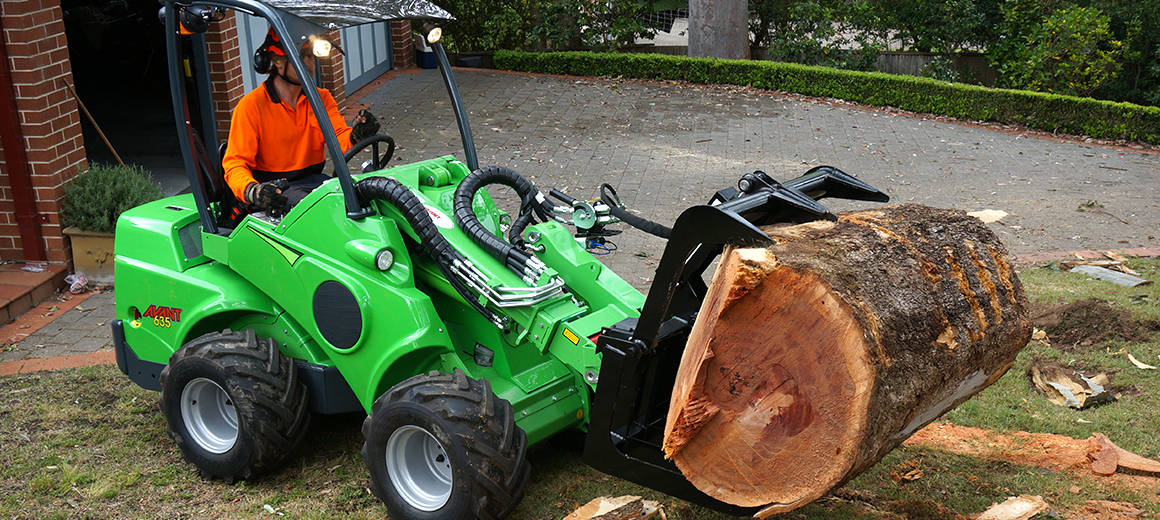 Arborists
The Best Loader On The Market For Arborists and Tree Lopping
One of the hardest parts of an Arborists job, is the hard physical labour involved. The heavy lifting is taking a toll on their backs, they are exhausted by the end of the day and jobs can sometimes take too long to complete.
Avant's ArborPro compact loader series will help arborists carry, move, dig, level, grab, grind and split materials better than ever. The unique articulated chassis design allows driving on lawns, paved area and other sensitive surfaces with no risk of damaging them.
With a telescopic loader boom, arborists can reach new heights and have greater outreach while the modern off-centre boom construction guarantees excellent, unrestricted visibility, preventing the need to reach out from the driver's seat to see the attachment. While the boom self-levelling makes load handling quicker, the articulated design allows precise sideways moving of the load in tight situations. The dimensions, auxiliary hydraulics output and other features of Avant work with the attachments, consistently achieving maximum output.
Despite the increase in power, comfort and versatility, Avant hasn't compromised on safety. From the load sensor system which provides an audible warning if the rear wheels are about to lift off the ground, to the Avant quick hitch system allowing easy, safe and fast attachment coupling, the Avant maintains both functionality and aesthetics as well as providing increased opportunity for the operator to respond to machine issues. The Avant ArborPro is the best loader on the market for Arborists and tree Loppers.
What are Arborists saying?
"Does the work of 4 men"
"I wish I'd bought it 10 years ago"
"Hands down, best machine we've bought. Will never buy anything else".
Why Avant?
Bigger lifting capacity of up to 1500kg
Up to 3.1m lift height
Drive speeds of up to 30km/h
Feed chippers straight from the machine
Collect debris using the rake attachment
Great maneuverability
Save your back
Reduces operating and maintenance costs
Save time and man power
Easy to operate
High dump clearance
Minimal to no surface damage
Year-round cabin options
 Over 190 attachments
18 different models ranging from 20hp to 57hp
Telescopic boom
25 years in Australia
Reliability
Increases productivity
New OptiDrive System: high efficiency, hydraulic system
European manufactured, Australian service
4 Wheel Drive
Contact Us