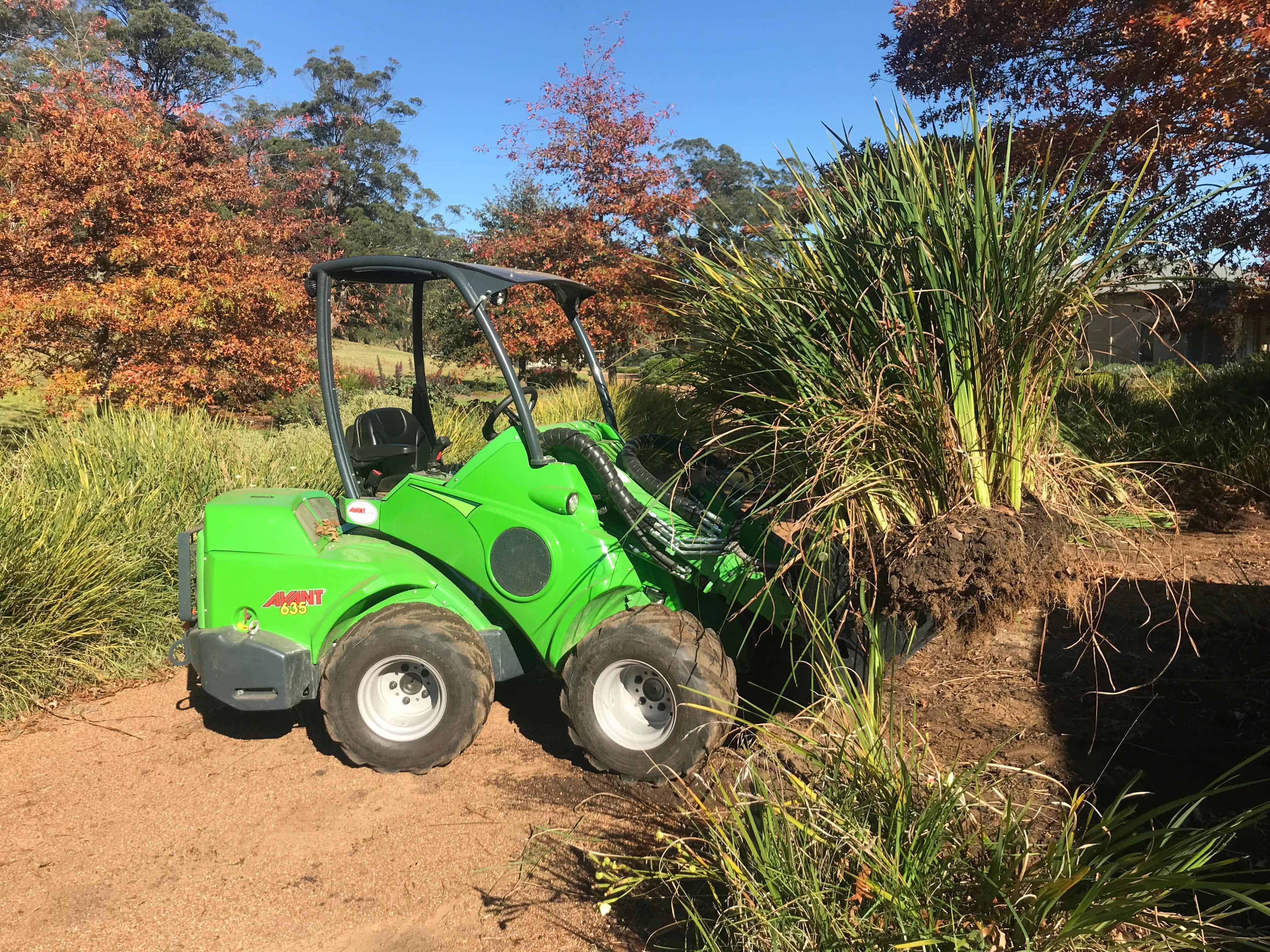 Landscaping
THE BEST LOADER FOR LANDSCAPING
As jobs get more demanding and sites get smaller, especially when working on narrow access properties, landscapers need a machine that can go anywhere and do anything. Avant is a powerful landscaper's tool that will impress on any job. The versatile loader will move, lift, carry, dig, split materials and more!
With a telescopic loader boom, Landscapers can reach new heights and lift more while the modern off-centre boom construction guarantees excellent, unrestricted visibility, preventing the need to reach out from the driver's seat to see the attachment. This makes it perfect for landscapers especially when moving bulky and heavy pallets from trucks to the job site.
The boom self-levelling makes load handling quicker, the articulated design allows precise sideways moving of the load in tight situations. The dimensions, auxiliary hydraulics output and other features of Avant work with the attachments, consistently achieving maximum output.
There's also plenty of power for all the heavy-duty jobs required, such as handling fertilizer sacks and stone pallets. Spreading surface materials, such as crushed stone and stone dust, is quick and effective with Avant. The Avant loader has been claimed by many to be the best loader for landscaping.
Hydrostatic transmission and the joystick-operated telescopic boom add control precision and help you to create an exceptional finish.
TREAT GENTLE SURFACES WITH CARE
Articulated steering and Avant's light frame allow Avant loaders to be driven on any surface without damage. This includes delicate surfaces such as grass, building foundations, paving. They can also be driven in National parks and gardens without fear of damage.
ANY JOBSITE, ANYTIME
Avant loaders are extremely versatile, and most models can be customised to fit across the tray of a truck. This means the Avant can be easily transported to any job site. They can also be transported on a trailer!
The optional A/C cab means you can work comfortably all year round, whether cold and rainy or stifling hot! This will excite your customers and help you meet deadlines without worrying about the weather!
For trailers suitable to tow the Avant please contact us here.
WHY AVANT?
Bigger lifting capacity of up to 1500kg
Up to 3.1m lift height
Drive speeds of up to 30km/h
Great manoeuvrability with articulated steering
Reduces operating and maintenance costs
Save time and man power
Easy access and operation
Minimal to no surface damage
Year-round cabin options
Over 190 attachments available
18 different models ranging from 20hp to 57hp
Telescopic boom
25 years in Australia
Reliability
Increases productivity
New OptiDrive System: high efficiency, hydraulic system
European manufactured, Australian service
4 Wheel Drive
Contact Us